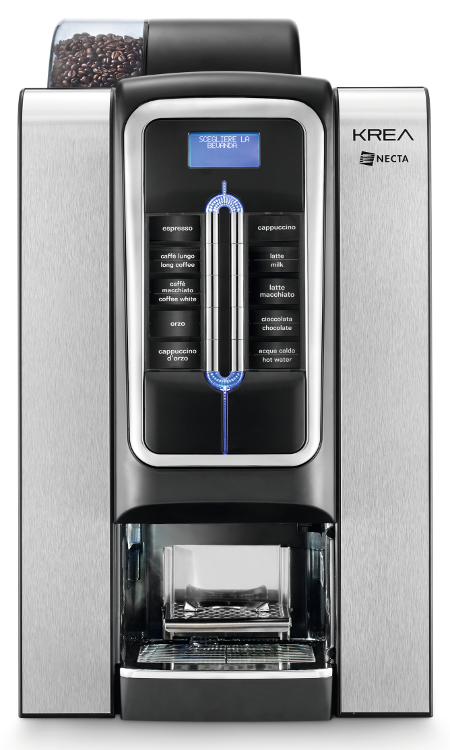 Necta Krea Bean to Cup
The Krea Bean to Cup is a brilliant compact machine that produces a consistent quality espresso based drink.
It is very easy to fill and keep clean, requiring very little fuss.
Suitable for hotels, bed & breakfast premises, club houses, refreshment areas for business and education.
Capacity:
170 cups (bean coffee)
75 cups (chocolate)
215 cups (soluble coffee)
Drink Selection:
Cappuccino
Caffe Latte
Coffee Black
Coffee White
Americano
Espresso
Espresso Choc
Hot Chocolate
Chocomilk
Hot Water
Selections above made with coffee beans and/or soluble coffee
Summary
Features
Possibility to use own mug or jug (up to 24 cm)
Lit with low heat/low energy LED lights
Large graphic display
Links to contactless card and mobile phone payment system
Backlit, touch sensitive selection panel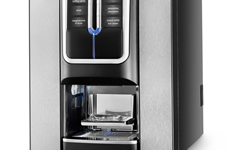 WiFi and Bluetooth
Payment system or freevend, coin or cashless systems at the same time.
RSS feed, weather forecast and online connectivity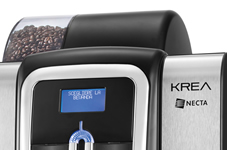 Payment system or freevend, coin or cashless systems at the same time.
RSS feed, weather forecast and online connectivity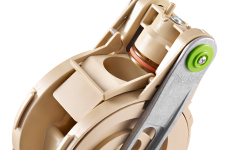 Patented Z4000 coffee brewer
Payment system or freevend, coin or cashless systems at the same time.
RSS feed, weather forecast and online connectivity